2024 CMAA Secretary-Treasurer and Board of Director Slate of Candidates Announced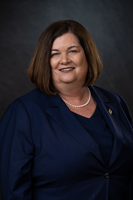 The CMAA Board of Directors announces the election of Janine Budzius, CCM, CCE, of Philadelphia Country Club in Gladwyne, PA, to serve as the 2024 Secretary-Treasurer. She was elected by the Board during its spring meeting. She was first elected to the Board in 2019 and was reelected in 2022.
For general elections to the National Board of Directors, there are three, three-year terms, and one, one-year term available in 2024.
The following members have been slated by the CMAA Nominating Committee:
Judy Higgins, CCM, CCE, Valley Lo Club, Glenview, IL
Jeff Isbell, CCM*, Renaissance, Haverhill, MA
Charles Johnson, CCM, Detroit Athletic Club, Detroit, MI
Casey Newman, CCM*, Lakeside Country Club, Houston, TX
*denotes incumbent
Voting Information
Each candidate will make a two-minute presentation at the upcoming 2023 Leadership/Legislative Conference, which will be made available through the CMAA website along with their candidate platforms and résumés. 
Online voting will open in December and continue through CMAA's World Conference and Club Business Expo, March 4-8, 2024, in Las Vegas, NV.  
Each and every eligible voter is urged to vote. Active voter participation is critically important to ensure our collective voice is heard regarding the future of our great Association.