Club management magazine
Club Boards Can Take a Role in Cyber Security Too
While it is imperative that the Club's staff does all they can to mitigate risk, club boards should leverage cyber expertise to educate themselves as well.
Events
Set Your Club's Strategic Direction
This year's Club Leadership Summits in May, June, and September bring together club management professionals and their club's elected leader(s) for cooperative education and engagement on best practices and trends.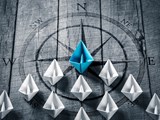 Membership
Join Thousands of Club Management Professionals
CMAA offers you and your club the education and resources you need to succeed in today's ever-evolving industry.