Club Business Expo
Wednesday, March 6: 9:30 a.m.–3:00 p.m.
Thursday, March 7: 9:30 a.m.–1:30 p.m.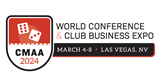 Browse Aisles of Possibilities at the Club Business Expo
The Club Business Expo, March 6-7, offers a two-day window to explore the offerings of 300 companies highlighting cutting-edge trends and innovations in the industry.
Attendees, Start Planning Your Visit
Virtually every product and service essential for your club is on display at the Expo, presenting a prime opportunity for face-to-face discussions about potential purchases and a thorough exploration of a wide array of possibilities.
Browse the Digital Floor Plan View Exhibitors Alphabetically
Exhibitors, Join the Expo
There is still time to participate in the Business Club Expo! Exhibit, sponsor, advertise, or partner with us to showcase your products and services and to reach decision makers in the club industry.