Orlando, FL • February 26–27, 2023
The Club Management Association of America (CMAA) World Conference and Club Business Expo is the largest industry event for club management, bringing together nearly 3,000 total attendees. With dedicated show hours, the two-day Club Business Expo features more than 200 industry-leading companies and interactive areas.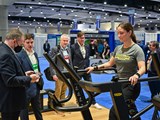 Showcase Your Services
Provide solutions and demos
Increase awareness of your brand and products
Gather market intelligence
Position your company for growth in the club space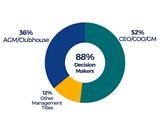 Meet Decision Makers
The Club Business Expo brings prospective buyers directly to you. CMAA members, general managers, CEOs, and COOs from the most prestigious clubs around the world attend. More than 60% of attendees made purchases from Club Business Expo exhibitors.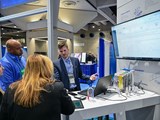 Build New Connections
Network to build new business relationships
Bring attendees together with interactive activities
Meet prospective buyers in a cost-effective way
Exhibit Now!
Exhibit booth space is $23.00 per square foot. Each corner will be charged an additional $200 corner fee.
Included: The cost includes back drape, side draping, basic booth signage, basic listing on the interactive floor plan, Pre- and Post-Roster of Attendees, 5 Exhibit Personnel badges per 100 sq. ft. booth space, carpeted public aisles, trash removal in public areas, professional floor manager.
Not Included: Exhibiting companies are responsible for drayage, freight, shipping, and booth décor (carpeting/flooring, tables, chairs, electric, internet/wi-fi, etc.).
How to Reserve Space at the Expo:
Read the rules and regulations.
View the floor plan.
When you click the available booth space you are interested in reserving for your company, you will see the online booth contract. "Click Here" will appear on the right of the screen.
Complete the online contract. During the completion process you have an option to pay via credit card or request to be billed.
Once submitted, you will receive an approval email.
Rules & Regulations Floor Plan Exhibitor Kit Suitcasing and Outboarding Policy
Exhibitor Move-In
Friday, February 24, 2023 8:00 a.m.–5:00 p.m.
Saturday, February 25, 2023 8:00 a.m.–5:00 p.m.
Exhibitor Move-Out
Monday, February 27, 2023 1:30 p.m.–8:00p.m.
Exhibit Hours
Sunday, February 26, 2023 9:30 a.m.–3:00 p.m.
Monday, February 27, 2023 9:30 a.m.–1:30 p.m.
Exhibitor Scams
World Conference Attendee Lists and More—Be aware of companies portraying themselves as legitimate information providers (i.e. attendee lists, expo guide ads, etc.) CMAA does not partner with or sell this information.
Housing—CMAA does not utilize nor contract with any company to offer housing or hotel accommodations services on CMAA's behalf. Accommodations are only available through a specified portal/link available on the official CMAA website.