Las Vegas, NV • March 6–7, 2024
The Club Business Expo will be held in conjunction with the CMAA World Conference, March 6-7, 2024, in the Shoreline Exhibit Hall.
The Club Management Association of America (CMAA) is the largest professional association representing club management professionals who operate country, golf, athletic, city, faculty, military, town, yacht, and other membership-based clubs. CMAA represents more than 7,000 members across all classifications.
Position your company for growth in the club space by...
providing solutions and demos
increasing awareness of your brand
gathering market intelligence
meeting prospective buyers
building new business relationships 
networking with CMAA members, General Managers, CEOs, and COOs from the most prestigious clubs around the world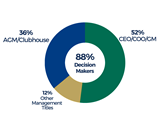 Did you know?
Each year, more than 60% of attendees make purchases from Club Business Expo exhibitors.
Plan Your Participation
Exhibit booth space is $25 per square foot. Each corner will be charged an additional $200 corner fee.
Included
The cost includes back drape, side draping, basic booth signage, basic listing on the interactive floor plan, 5 Exhibit Personnel badges per 100 sq. ft. booth space, carpeted public aisles, trash removal in public areas, professional floor manager.
Not Included
Exhibiting companies are responsible for drayage, freight, shipping, and booth décor (carpeting/flooring, tables, chairs, electric, internet/wi-fi, etc.). How to Reserve Space at the Expo:
View the floor plan


On the Floor Plan:

When you click to choose the available booth space you are interested in reserving for your company, you will see the online booth contract. Click the "Click Here" link on the right of the screen.
Complete the online contract. During the completion process you have an option to pay via credit card or request to be billed.
Once submitted, you will receive an approval email.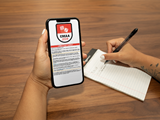 Updates
Each month CMAA will email and post Exhibitor Updates containing the most up-to-date information to assist in your preparations and planning.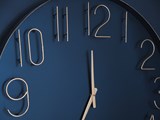 Schedule
Exhibitor Move-In
Monday, March 4, 2024:
 8:00 a.m.–5:00 p.m.
Tuesday, March 5, 2024:
 8:00 a.m.–5:00 p.m.
Exhibit Hours
Wednesday, March 6, 2024:
 9:30 a.m.–3:00 p.m.
Thursday, March 7, 2024:
 9:30 a.m.–1:30 p.m.
Exhibitor Move-Out
Thursday, March 7, 2024:
 1:30–8:00 p.m.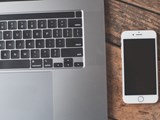 Contact
If you need assistance or have any questions, please contact:
Kelly Springirth
Direct: 703-299-4271
Exhibitor Scams
World Conference Attendee Lists and More—Be aware of companies portraying themselves as legitimate information providers (i.e. attendee lists, expo guide ads, etc.) CMAA does not partner with or sell this information.
Housing—CMAA does not utilize nor contract with any company to offer housing or hotel accommodations services on CMAA's behalf. Accommodations are only available through a specified portal/link available on the official CMAA website or the Exhibitor Resource Center (Map Your Show) when it becomes available.