News Room
Brett Morris Named 2022 Club Executive of the Year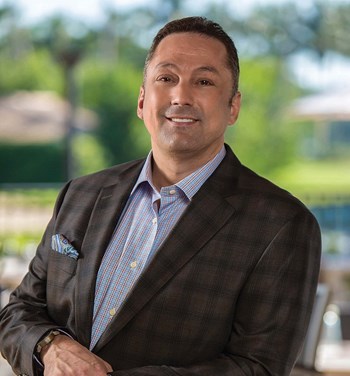 Alexandria, VA—November 9, 2022—Club Management magazine has named Brett Morris, the 2022 Club Executive of the Year. A 22-year member of the Club Management Association of America (CMAA), Morris currently serves as the General Manager/Chief Operating Officer of The Club at Admirals Cove in Jupiter, FL.
Morris has more than 32 years of experience in the club industry. His first role in the club industry was the Executive Chef of Millbrook Country Club in Greenwich, CT. Next, he served at Wykagyl Country Club in New Rochelle, NY, from 1995 to 2003 where he advanced from the role of Executive Chef to the Director of Food & Beverage and ultimately to General Manager. Morris next led Fresh Meadow Country Club in Lake Success, NY, as General Manager/COO from 2003 to 2012. Prior to joining The Club at Admirals Cove in 2020, he served as the General Manager/Chief Operating Officer of the Polo Club of Boca Raton, from 2012 to 2020. He is a graduate of the prestigious Culinary Institute of America in Hyde Park, NY.
Mentee Ryan Artim, CCM, General Manager/CEO of High Ridge Country Club, explains Morris' impact as a mentor, "I was privileged to see his servant leadership style in action every day. I am grateful for how Brett pushed me to come out of my shell, that excitement is contagious, and to never stop learning."
Pamela Caldwell, Director of Wellness, at The Club at Admirals Cove, details Morris' dedication to the club staff, "Through his dedicated approach to excellence, empowerment, and thoughtfulness, Brett emboldens my fellow managers and me to take the initiative to do their very best. It has allowed our organization to be recognized as a leader in the private club space, a place where people want to work, learn, and grow."
Morris served as a Director of the Seminole Region of the Florida Chapter of CMAA (FLCMAA) from 2018 to 2022 and is the Director of the Seminole Region Charity Event. Fellow Chapter leader Carmen Mauceri, CCM, explains his involvement, "Innovative, empowering, and authentic are just a few of the words that come to mind when I think of Brett as a trustworthy colleague with whom I've had the pleasure of serving on the FLCMAA leadership team. His forward-thinking outlook was refreshing, especially during the trying times of COVID. His positive approach and fresh ideas were a glimmer of light during a dark time for all of us. He is always the first to say, "How can I help?"
Annually, Club Management recognizes outstanding professionalism and club leadership with the Club Executive of the Year Award. Created in 1985 and originally known as the Club Manager of the Year, the award was re-titled in 2008 to mirror the evolution of the profession. This prestigious honor is presented to a club management professional who embodies professionalism within their club and community—embracing mentoring, creating a supportive club culture, and impacting their local CMAA Chapter through sustained engagement. Nominations are accepted in early fall, and selections are made by a diverse committee of club management professionals.
Morris is the 36th individual club executive to be honored through this award. He will be featured in the January/February 2023 issue of Club Management magazine, profiled in a forthcoming edition of the Let's Talk Club Management Podcast, and honored in person at the 2023 CMAA World Conference and Club Business Expo in Orlando, FL.
About CMAA
Founded in 1927, the Club Management Association of America (CMAA) is the largest professional association for managers of membership clubs with more than 7,000 members throughout the US and internationally. Our members contribute to the success of more than 2,500 country, golf, athletic, city, faculty, military, town, and yacht clubs. The objectives of the Association are to promote relationships between club management professionals and other similar professions; to encourage the education and advancement of members; and to provide the resources needed for efficient and successful club operations. Under the covenants of professionalism, education, leadership, and community, CMAA continues to extend its reach as the leader in the club management practice. CMAA is headquartered in Alexandria, VA, with 42 professional chapters and more than 40 student chapters and colonies. Learn more at cmaa.org.
About Club Management Magazine
Club Management is the official magazine of CMAA and furthers the objectives of the Association. Published bimonthly, Club Management features timely, educational, and informative content. All communications to editorial should be directed to goodnews@cmaa.org.