Professional Development
Unreasonable Hospitality Author, Will Guidara, to Kick Off 2024 World Conference and Club Business Expo
Will Guidara is the author of the national bestseller, Unreasonable Hospitality: The Remarkable Power of Giving People More Than They Expect, which chronicles the lessons in service and leadership he has learned over the course of his career in restaurants. He is the former co-owner of Eleven Madison Park, which under his leadership received four stars from the New York Times, three Michelin stars, and in 2017 was named #1 on the list of the World's 50 Best Restaurants. He is a graduate of the hospitality school at Cornell University, has coauthored four cookbooks, was named one of Crain's New York Business's 40 Under 40, and is the recipient of WSJ Magazine's Innovator Award. Guidara will share valuable insights into why "service is the new luxury" and how to succeed in today's "hospitality economy" at CMAA's Opening Business Session on Tuesday, March 5, beginning at 8:00 a.m.
CMAA's World Conference and Club Business Expo is the right time and place to bet on yourself and build your success. Accomplish all of your objectives while advancing your career and certification goals, March 4-8, 2024, at the Mandalay Bay Resort in Las Vegas, NV! 
Mark your calendars! Event registration and accommodation reservations will open mid-October!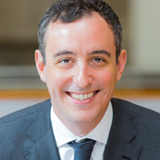 Registration Deadline Approaching for the Club Leadership Summit at the Chevy Chase Club
Enhance your partnership with your club's elected leader(s) with CMAA's Club Leadership Summits. These one-day Summits bring together club management professionals and their club's President Elect/President or Chairman of the Board for cooperative education and engagement on club governance best practices and trends. On September 6, the Summit will be held at the Chevy Chase Club in Chevy Chase, MD (near Washington, DC). Chevy Chase Club is a distinctive social institution that, since 1892, has provided its members, their families and guests with recreation and refuge from the stresses of daily life in the environs of the nation's capital. The Club's remarkable gardens, grounds, athletic venues, and clubhouse facilities offer year-round enjoyment for all ages.
Prepare your club's elected leadership for success with focused information on relevant strategic topics, including governance, finance, club trends, and legislation.
These highly rated Summits are presented in partnership with KOPPLIN KUEBLER & WALLACE, a CMAA Business Partner.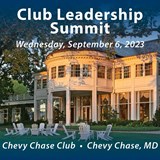 Membership and Member Benefits
President & CEO's Perspective: Education
In this month's Vlog, Jeff Morgan, FASAE, CAE, talks about education, the factors impacting hospitality educators today, and insights from his participation in the recent International Council on Hotel, Restaurant, and Institutional Education (ICHRIE) Conference.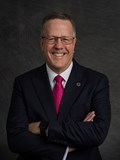 Renew Your CMAA Membership Today
CMAA's 2023 membership year ends on October 31, which is right around the corner. Have you renewed your membership for 2024? If not, there is no time to waste. Renew your membership now so you do not incur any late fees.
Please proceed directly to the new online renewal service; have your email address and password ready. Please also be sure to verify your personal, club, and chapter information. You can make any necessary changes by logging into your profile and updating your information.
Thank you and we look forward to another wonderful year ahead!
Did You Know? You Can Subscribe to Donate to The Club Foundation
We all want to support grants and scholarships for our CMAA colleagues. The Club Foundation funds those scholarships through donations from thousands of members. Some of those members are subscription donors who contribute on a monthly or recurring basis. This allows The Club Foundation to fund scholarships and grants effectively and reliably, well into the future.
We asked Susan Schenkel, CCM, CCE, why she likes to donate to The Club Foundation through a subscription/recurring payment:
I wouldn't be where I am today without CMAA and all that The Club Foundation offers. A monthly contribution is easy—set it and be done—and it's tax-deductible! Why not support something that gives back to me each and every day!
For the cost of the average American household streaming expense ($113.94 a month), The Club Foundation could afford to fund nearly three Student Chapter Grants (per year), helping students afford to attend the World Conference. Americans also spend $92 a month on take-out coffee, approximately $3 a day, which could fund one Third-Place Chapter of the Year Award annually. We're not suggesting that you give up your coffee and streaming money but think how far a small percentage of those dollars could go if combined with the power and generosity of other members in our club industry family.
Why Become a Subscription Donor?

Your Dollars go Further

It's Easier to Donate

You Create Stability

Monthly donations incur fewer operational costs, so more of your gift goes directly to support scholarships and grants.

Donations are automatic and have less impact on your personal budget. You may also be able to contribute more over the course of the year.

Monthly support creates a more stable income stream so we can keep those scholarships coming.
Mark your calendars with the following scholarship and grant deadlines:
Sally Burns Rambo Scholarship—Due Date: September 1
James B. Singerling Scholarship—Due Date: October 1
Willmoore H. Kendall Scholarship—Due Date: November 1
LaRocca Family Executive Scholarship—Due Date: November 1
If you have questions regarding this campaign or any other Foundation work, please complete our contact form or call us directly at 703-299-4284.
Resources
Listen: Let's Talk Club Management Ep. 99 – Meet Ishan and Dawn
In this episode, we welcome two of our newest CMAA team members, Dawn Coleman and Ishan Tuli! Dawn joined our team back in April as the Senior Director of Learning and Career Development. Ishan came on board around the same time as a new Staff Accountant. Both of our new team members chatted with us about their backgrounds and interests and what they are most looking forward to doing with CMAA.


Trends and News
How Do Firmware Supply Chain Attacks Work?
Suppliers and third-party partners might be the weak link in an organization's cybersecurity. Therefore, most companies' corporate security highly depends on their external partners. Supply chain attacks, which often target specific organizations by compromising partners and suppliers high in the supply chain, are hard to detect and usually overlooked. According to a recent report, supply chain attacks have increased in frequency of occurrence by a shocking 300 percent. ENISA notes that 66 percent of the attacks focus on compromising software suppliers' code to affect customers. These alarming numbers are causing a lot of sleepless nights as customers ponder what to do once attackers breach their suppliers.
Read the full whitepaper from Pulsar Security, a CMAA Education Partner