Professional Development
Recession or Resilience Ahead for the Economy? Find Out at the Leadership/Legislative Conference
An award-winning economist with more than 20 years of experience analyzing US monetary policy, labor markets, fiscal policy, international finance, economic indicators, and the condition of the US consumer, RSM's Chief Economist Joe Brusuelas will provide an economic update and address the question of whether it will be a recession or a soft landing for the economy. A member of The Wall Street Journal's forecasting panel, he regularly briefs members of Congress and other senior officials on the effects of federal policy and the factors by which executives make business decisions.
Hear Brusuelas at the 2023 Leadership/Legislative Conference on Tuesday, September 12, in San Antonio, TX. Annually, this Conference unites aspiring, current, and sustaining CMAA Leaders. Be part of this vibrant and boutique educational and networking opportunity in San Antonio, TX, September 11-13. Enrich your personal and professional development with interactive programs and sessions, informative speakers and presentations, and engaging networking experiences.
Club Leadership Summit: Visit the Chevy Chase Club This Fall
Enhance your partnership with your club's elected leader(s) with CMAA's Club Leadership Summits. These one-day Summits bring together club management professionals and their club's President Elect/President or Chairman of the Board for cooperative education and engagement on club governance best practices and trends. On September 6, the Summit will be held at the Chevy Chase Club in Chevy Chase, MD (near Washington, DC). Chevy Chase Club is a distinctive social institution that, since 1892, has provided its members, their families and guests with recreation and refuge from the stresses of daily life in the environs of the nation's capital. The Club's remarkable gardens, grounds, athletic venues, and clubhouse facilities offer year-round enjoyment for all ages.
Prepare your club's elected leadership for success with focused information on relevant strategic topics, including governance, finance, club trends, and legislation.
These highly rated Summits are presented in partnership with KOPPLIN KUEBLER & WALLACE, a CMAA Business Partner.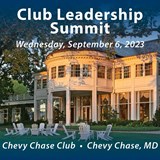 Membership and Member Benefits
President & CEO's Perspective: Taking Care of Our Members and Our Staff
In his latest vlog, President & CEO Jeff Morgan, FASAE, CAE, discusses considerations for taking care of your members and your staff. How are you accommodating the segment of the population with neurodiversity? How about those struggling with depression?
Heads Up: 2024 CMAA National Membership Renewals Are on the Way
You should receive your first 2024 membership renewal notice in the mail very soon. Payment is due no later than October 31, 2023. Please consider an early payment to avoid additional notices and any late fees that may be assessed.
Please be sure to verify your personal, club, and chapter information. You can make any necessary changes by logging into your profile and updating your information.
Save time and renew online with your credit card by logging into your online profile and going to "My Invoices." We are looking forward to another incredible year!
Ten Joe Perdue Scholarships Awarded
One priority for The Club Foundation is to provide support for students interested in starting a career in the club industry. Through the Joe Perdue Scholarship, The Club Foundation offers students around the nation the opportunity to apply for tuition dollars to support their hospitality studies. The scholarship is named after long-time CMAA professional Joe Perdue, CCM, CHE, who was an asset and powerhouse in clubs, at CMAA, and at the University of Nevada. He served on various boards throughout the industry including The Club Foundation Board of Governors. Most notably, he was responsible for initiating and developing CMAA's Business Management Institute (BMI).   This year, ten undergraduate students seeking to build their careers in the club industry are each being awarded $5,000 for direct support of tuition and fees at their respective institutions. For more information about the Joe Perdue Scholarship, please visit The Club Foundation's website Apply page.

Congratulations to the 2023 recipients:
Olive Beauchesne, Johnson & Wales University, Providence
Grace Canzano, University of Massachusetts
Diego Cardenas, University of Houston
Hailey Coates, Virginia Tech
Kalie Dahl, University of Wisconsin-Stout
Fiona Heeney, University of Missouri – Columbia
Rachel Lewis, Fairleigh Dickinson University
Joshua May, Michigan State University
Molly Passow, Niagara University
Grace Schuler, Drexel University
Do you have questions about these scholarships? Please complete our contact form or call us directly at 703-299-4284.
Did You Know? 
CMAA recently added a new member interest group for HOA/POA managers—join the group today to connect with your colleagues!
Resources
Keep Your Family Cyber Safe This Summer
Get tips to keep your kids cyber safe this summer with insider perspective and guidance from cyber security experts and CMAA Education Partner, Pulsar Security. From parental controls to passwords and social engineering, learn about all aspects of the cyber experience applicable to all family members.
Watch this on-demand webinar now
Research: Impact of Inflationary Increases
According to the 2023 Club Leaders' Perspective Report, club leaders are expecting continued high inflationary increases to impact key departmental expense budgets. On average, increases to payroll expenses (7.3 percent) are expected to outpace non-payroll expenses (6.2 percent). These expectations reflect a slight increase from last year. Notably, expected increases to F&B expenses for payroll and non-payroll are slightly less than las year.
Trends and News
OSHA Finalizes Changes to Injury & Illness Recordkeeping Regulation
The Occupational Safety and Health Administration (OSHA) has issued its final changes to the requirements for employers to submit their injury and illness data annually electronically. The final rule retains the existing requirement applicable to employers with 250 or more employees, including clubs, to electronically submit information from their Form 300A to OSHA annually. Additionally, to improve data quality, employers are required to include their legal company name when making electronic submissions to OSHA.
Jonas Club Software Announces its 2023 Client Feedback Forum Schedule
Jonas Club Software has announced the schedule for its 2023 Client Feedback Forums. In these full-day sessions, the company will provide valuable information on its Product Ecosystem and Technology Roadmap, and attendees will have the opportunity to give feedback on future product enhancements and features in the Open Forum.
The Client Feedback Forums take place in the US and Canada during September and October. Those interested can register for an event. These sessions are a unique opportunity to give product feedback and enhancement requests directly to Jonas Club Software product managers, who will be on-site to meet attendees.
Waters Advocacy Coalition Calls for Thorough WOTUS Rewrite by EPA and Army Corps
As part of the Waters Advocacy Coalition (WAC), CMAA has urged the Environmental Protection Agency (EPA) and the US Army Corps of Engineers to carefully reconsider key interpretations in the 2023 Waters of the United States (WOTUS) rule as the agencies revise the rule to align with the Supreme Court's opinion in Sackett v. EPA.
In its letter on Monday, July 24, WAC wrote, "EPA and the Corps have stated that they intend to issue a final rule by September 1, 2023, that amends the Biden WOTUS Rule to ensure consistency with the decision in Sackett. Based on this truncated rulemaking timeline, it appears that the Agencies will forego public comment and simply strike language from the rule related to the significant nexus test as well as the definition of 'adjacent,' while reinforcing the Agencies' interpretation of the 'relatively permanent' test set forth in the preamble. That is not a defensible response to Sackett or an appropriate approach to this rulemaking."