We hope you enjoyed the 2023 Communications Summit!
Share Your Thoughts
The event survey provides feedback to the presenters at this year's event as well as helps us develop future events.
Save the date for 2024!
The Communications Summit is heading to Boston, MA, April 8-10!
Join the Community
But don't wait until 2024 for more networking and professional development opportunities, join the Communications Community.
The 2023 Communications Summit will be hosted at impressive clubs in Houston, TX, from March 20-22. The Summit is designed for club communications and marketing professionals, or any professional looking to learn more about this vital and constantly changing aspect of club operations.
Learn more effective strategies and tactics to communicate with your members and the greater club community, while visiting iconic Houston-area clubs. Sessions will feature hands-on opportunities to share and learn from fellow communications practitioners and industry experts.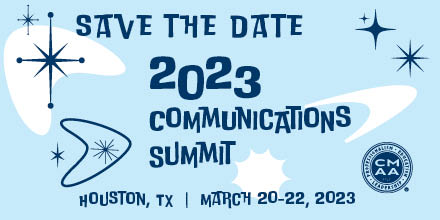 Register
CMAA Member/Communications Community Subscriber* Registration: $925
New Subscriber/Summit Bundle: $1,100
Non-Member/Non-Subscriber Registration: $1000
*The Communications Community is an exclusive CMAA hub for communications professionals to connect, share, and engage with one another.
Attendance at all sessions qualifies for 11 CMI credits.
Registration is full. To be added to the waitlist, please contact Alanna Eckard.
Schedule
Programming begins on Monday, March 20 at 5:00 p.m. and ends at 9:00 p.m. on Wednesday, March 22.
Attendees will visit the Houston Racquet Club and Houston Country Club and will also have time to explore and enjoy the Houston area with a free evening.