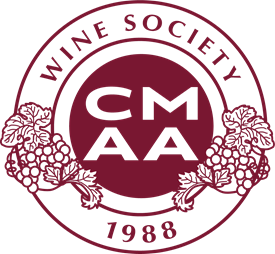 In 1986, Bob Fudge contacted W.R. "Red" Steger, CCM, and Warren Arseneaux, CCM, with the idea of creating a CMAA Chapter of Les Amis de Vins. While trying to bring this idea to fruition, it became increasingly apparent that Les Amis de Vins lacked the enthusiasm or time to develop another chapter with CMAA. Consequently, Red and Warren decided to take this idea to CMAA's 1987 Las Vegas Conference and present it to a small but mighty group of wine enthusiasts—past presidents, former board members, and fellow members from the Texas Lone Star Chapter. It was there that the concept of the CMAA Wine Society was developed. Read the Bylaws for more information.
Our mission is to promote the knowledge and appreciation of wine by those in the club industry through education and fellowship, providing resources and funding for continuing wine education.
Calendar
November 17 at 12:00 noon EDT

Webinar: Society of Wine Educators

Did you know that you have access to exclusive discounts on the most up-to-date wine and spirits education and certification programs offered by the Society of Wine Educators (SWE)? These programs feature instructor-led online education, monthly webinars, online resources, and more. Offering team members professional development opportunities is one of the best ways to not only train but retain top talent. It's also an excellent recruitment tool and can drive customer engagement and beverage sales. Please join the SWE's Director of Education, Jane Nickles, and Sales Manager, Ben Coffelt, on November 17 at 12:00 noon EST to discuss the various programs available, different training tools, the exclusive discounts on offer to CMAA members, and answer any questions you might have. Please RSVP by email to Ben Coffelt.
December 7 at 8:00 p.m. EDT

Webinar with Winemaker Arnaud Weyrich of Roederer Estate
Roederer Estate has been crafting fine sparkling wines in California since 1982. Roederer will send every attendee a bottle of the Brut and Brut Rose. Chief winemaker Arnaud Weyrich will guide us through their region and history. Sign up by November 14.