News Room
New Resource: "Private Club Governance: A Handbook of Principles and Best Practices," Published for Leaders of Private Clubs
National Club Association, Club Management Association of America release framework for effective governance of private clubs.
August 8, 2023; For immediate release.
The National Club Association (NCA) and Club Management Association of America (CMAA) today released "Private Club Governance: A Handbook of Principles and Best Practices." Written by a joint committee of experts from the associations, the new publication is a definitive guide to governance of private clubs, designed to be a framework of best practices for clubs at any place on the spectrum of effective governance.
"Governance is among the most discussed issue at any private club," said joint Governance Committee Chair Tim Muessle, CCM, CCE, Chief Operating Officer, The Olympic Club, San Francisco. "This new publication was written to clearly define the standard of effective governance, offering best practices for club boards, committees, and general managers/CEOs."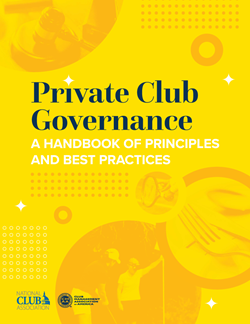 The handbook is a comprehensive guide on establishing and maintaining good governance, and covers everything from bylaws and articles of incorporation to board policies, committee structure and roles to evaluations and improvement. It also includes a chapter of sample documents every club board should have.
NCA members can access the handbook here
CMAA members can access it here
"Private Club Governance" was developed by a joint committee of experts from both associations in a partnership structured to benefit the entire private club community. NCA and CMAA will offer continuing education based on it for club presidents, boards, and CEOs/general managers, including at CMAA's 2023 Leadership/Legislative Conference Sept. 11-13, and during a joint, online symposium hosted by NCA September 25.
For more information, contact:
About NCA
The National Club Association (NCA) has been the advocate for the private club industry in Washington, D.C., for more than 60 years. As the voice of private clubs on Capitol Hill, NCA ensures that club concerns are forefront when legislative and regulatory issues affecting the industry are being decided. In addition, NCA provides club leaders an outstanding array of resources on club industry trends, governance best practices, legal and operational matters and ways to strengthen club leadership. nationalclub.org.
About CMAA
Founded in 1927, the Club Management Association of America (CMAA) is the largest professional association for managers of membership clubs with more than 7,000 members throughout the US and internationally. Our members contribute to the success of more than 2,500 country, golf, athletic, city, faculty, military, town, and yacht clubs. The objectives of the Association are to promote relationships between club management professionals and other similar professions; to encourage the education and advancement of members; and to provide the resources needed for efficient and successful club operations. Under the covenants of professionalism, education, leadership, and community, CMAA continues to extend its reach as the leader in the club management practice. CMAA is headquartered in Alexandria, VA, with 40 professional chapters and more than 40 student chapters and colonies. cmaa.org.