Student Chapter and Faculty Idea Fair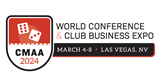 The 2024 Student Chapter and Faculty Idea Fair will be held at the 2024 World Conference and Club Business Expo in Las Vegas, NV! The purpose of the Student Chapter and Faculty Idea Fair is for Student Chapters to share innovative ideas with each other in specific categories.
New this year: Faculty categories have been added for Faculty members to showcase their innovative ideas as well!  
Submission Deadline: February 5, 2024

Categories
Student Chapter Categories and Examples 
Recruiting and retention techniques, plans, programs, etc. 
Systems, processes, protocols .
Methods, data, tangible evidence 
Socials, dinners, golf tournaments, football games 
Car wash, moon bounce, field day, etc. 
Faculty Categories
Promotion of the Profession (Club Management)   


Student Chapter Liaison Manager and/or Faculty Engagement  


Club Management Education  
Qualifications

Criteria
All entries must be submitted online by

February 5, 2024

. 

Upload one entry board file (jpg. or .jpeg format) that enhances or helps explain your idea. Please include the category you are entering and your student chapter name in the visual presentation.  
Images should be in portrait orientation.
Judging Criteria
Creativity/clarity/content
Transferability of idea/method to other

student chapters 

Uniqueness of idea
There will be one overall "Best in Show" award winner for the Student Chapter categories and the Faculty categories. The two "Best in Show" entries will each receive a $1,000 grant from The Club Foundation to be used for Chapter expenses.   
Participation in the 2024 Student Chapter and Faculty Idea Fair does not necessarily merit an award ribbon. Entries are the responsibility of the CMAA member.  
If you have any questions, please contact Sumayah Arcusa.
Student Chapter and Faculty Idea Fair Entry Form
Please fill out the online Student Chapter Idea Fair entry form and upload your entry board in our online form and we'll print them for you!