Chapter Digest
News for CMAA Leaders: February 2023

CMAA Research Overview: What Your Chapter Needs to Know
Read: 2022 CMAA Compensation and Benefits Report—The 2022 CMAA Compensation and Benefits Report is now available. All members have access to high level information through the Executive Summary in the Best Practices Exchange community (in the library) on CMAA Connect. Participants may access the Full Report on the Research Portal at cmaa-research.org.
Participate: Club Employee Demographic Assessment—The Club Employee Demographic Assessment is presented with support from CMAA and The Club Foundation. It will provide a baseline and snapshot of the demographics across the club industry. This three-year project will enable your club to benchmark your changing demographics over time.
Your club's participation and information are confidential. Please submit one response per club. You will gain insight into your team's diversity and assist in formulating your own DEI strategy and tactics. Your club's participation in this assessment will provide data to help CMAA build education and resources to help clubs recruit and retain diverse talent, making it attractive for everyone to choose to work in clubs.
If you have any questions about any of CMAA's research initiatives, please contact CMAA's Director of Research, Amilcar Davy, at 703-739-9500.
Featured Chapter Idea Fair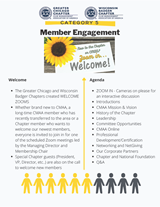 Congratulations to the Greater Chicago and Wisconsin Badger Chapters who won first place in the 2022 Chapter Idea Fair for their idea in the "Member Engagement" category. Read more about how their Chapters hold zoom meetings for to welcome and engage new and newly transferred members.
"Although the events are mostly meant for new and transfer members, ALL chapter members were invited so that anyone could attend to welcome and meet new members."
Chapter Management Resources
All Officers
Please save the date for the 2023 Leadership/Legislative Conference to be held September 11-13, in San Antonio, TX! We hope to see you all there!
Managing Directors
It's not too late to reinstate! Members who were dropped for non-payment of their 2023 national dues simply need to submit a payment and they will automatically be reinstated. Have them log into their profile on cmaa.org and click on the "My Invoices" tab to locate and pay their invoice.
Career Services Chairman
Post Opportunities with Complimentary Job Boards in Orlando. 
Job posters can publicize their club employment opportunities for attendee to peruse. Set up in the Member Services Pavilion in ​Osceola A/B on Level 2 of the Gaylord Palms Resort, multiple boards offer exciting new opportunities across departments and career stages, from internships to executive-level positions. Submit your open positions on this online form or bring them with you to post. See you in Orlando!
The Club Foundation Liaison
Join The Wellness Challenge at World Conference
At the 2023 World Conference and Business Expo, the CMAA Club Wellness Community is presenting the Wellness Challenge.  This week, you received an email from Charity Footprints to get started and we hope you will sign on and participate. Each wellness activity that you complete during conference week earns you points for prizes! 
We want you to make the most of your Conference experience by participating in activities like morning workouts, drinking a glass of water, taking periodic movement breaks, and donating to your favorite charity. Also, if you are playing in The Club Foundation Golf Tournament or participating in the ClubLove 5K, you get points for those activities too! Check out the list of activities to keep your Conference week healthy and mindful.
Communications/Public Relations Chairman
Listen to Let's Talk Club Management
CMAA's podcast, Let's Talk Club Management, is a show dedicated to giving an in-depth look at the club management profession. With insider stories of first-hand experiences to best practices from your Association leaders, CMAA looks to provide you with the best information (with a side of fun). The subject matter includes expertise directly from CMAA Members on topics like research, governance, taking the next step in your career through certification, and more. You can also hear the inside scoop from CMAA HQ Team and touch base with CMAA Coaches and speakers.
Later this month we'll be sharing a Know Before You Go episode to help our listeners prepare for World Conference. Stay tuned and share with your Chapter members to get ready to head to Orlando! Listeners can find us on cmaa.org, Apple Podcasts, Spotify, and Soundcloud.
Advocacy/Legislative Chairman
Save the Date for 2023 National Golf Day
National Golf Day serves as the pinnacle advocacy event of the year for the American Golf Industry Coalition, formerly known as We Are Golf. More than 200 golf industry professionals will head to Capitol Hill to advocate for the industry and educate lawmakers in Washington, DC.
The 15th annual National Golf Day will take place on Wednesday, May 10, with volunteer activities, education, and networking beginning on May 9. There is no cost to participate. Join CMAA's Advocacy Committee and Legislative Chairmen in this important opportunity to make your voice heard on issues impacting our industry. We are seeking to have representation from every state represented in CMAA.
Registration will open in early February. For additional questions, please contact Melissa Low, CAE, CMAA's Senior Director, Communications & Advocacy.
Membership Chairman
What's Your Membership Engagement Strategy?
Does your chapter use a specific strategy to engage new members? If so, are you using it? If not, think about developing and implementing one. A positive first impression is critical when it comes to retention; show new members all the wonderful things your chapter has to offer them!
Professional Development
Send Your Communications Team to the Communications Summit
The 2023 Communications Summit is geared toward those who directly manage or oversee the communications and marketing efforts at the club, or simply are looking to learn more about this very important and constantly changing aspect of club operations. The 2023 Communications Summit is scheduled for March 20-22 in Houston, TX.
Attendees will learn effective strategies and tactics to communicate with club members and the greater club community, while visiting two impressive clubs in the Houston area: Houston Country Club and the Houston Racquet Club.
Access the schedule, registration information, and more
Research Chairman
Participate: 2023 CMAA/USPTA Survey
CMAA and the United States Professional Tennis Association (USPTA) have partnered together to design this survey to gather data about the ever-changing landscape today of racquet sports within clubs.
We are interested in learning more about your perspective on the quality of your tennis/racquet sports professional staff, trends in pickleball, and other related alternative racquet sports information.
In addition, CMAA and USPTA are looking for data regarding the education and certification of professional tennis/racquet sports staff.
Student Chapter Liaison
Join the Career Opportunities and Networking Showcase at the 2023 World Conference and Club Business Expo
Whether you're a club looking to hire or a student looking for work, this is a great event to connect managers with students. Visit the Student Section of the website to sign up your club for this event and to see who will be present. There are already clubs signed up from coast to coast—there's sure to be something there for everyone!
Wine Society Representative
RSVP for the Wine Society Business Meeting
Wine Society members, be sure to RSVP for the Wine Society Business Meeting with our featured speaker, Laura Catena of Catena Zapata.
New Member Totals
We're excited to welcome more new members. Can you help us get further toward our goal?
We want to hear what your Chapter is doing! Recently hold a fundraiser? Exciting event? Share your Chapter good news via email to goodnews@cmaa.org and you could be featured in an upcoming edition!