Chapter Digest
News for CMAA Leaders: March 2023

Chapter of the Year Winners Announced at Conference
Outstanding chapters were honored at CMAA's World Conference & Club Business Expo in Orlando, FL. The Chapter of the Year award competition recognizes outstanding work, participation, and accomplishments by CMAA Chapters. Many chapters worked hard to fill the top spots, a fact that was reflected in the extremely close races in each of the chapter size categories. Top honors went to:
Small Chapters
First Place: Nebraska Chapter
Most Improved: Tennessee Volunteer Chapter
Medium Chapters
First Place: Pittsburgh Chapter
Most Improved: Virginias Chapter
Large Chapters
First Place: Carolinas Chapter
Most Improved: Ohio Valley Chapter
Congratulations to these chapters on this time-honored achievement. To reward the winning chapters' efforts, each first-place chapter is eligible to receive a $3,000 Education Grant and most improved chapters are eligible to receive $2,000 Education Grant, all sponsored by The Club Foundation.
Impressive accomplishments were abundant—all CMAA members should be proud of the level of excellence that exists within the Association's chapter system. Thank you to Chapter of the Year Chairman Lindsey Bolander, CCM, and the panel of judges: Stephen Casey, CCM; Joe Callison; Jason Fiscus, CCM, CCE; Beth Hunter; Jade Kiosse, CCM; Tad Peel, CCM; Robert Podley, CCM; Layosh Toth, CCM, CCE; and Lloyd Van Horn.
Featured Chapter Idea Fair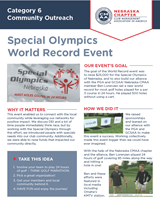 Congratulations to the Nebraska Chapter who won first place in the 2022 Chapter Idea Fair for their idea in the "Community Outreach" category. Read more about how their Chapter worked with their local network to make a positive impact.
"The goal of the World Record event was to raise $25,000 for the Special Olympics of Nebraska while building our allied chapter partnership with the NGCSA and Nebraska Section PGA. While our Nebraska golf alliance focuses mostly on legislative advocacy, this event provided community support and brought allied members together for a common cause bigger than ourselves."
Chapter Management Resources
All Officers
2022 Chapter Presidents—please fill out your 2022 President's Annual Report.
Managing Directors
Please look at your chapter's website and make sure that all forms, dues structures, contact information, etc., is up to date. Please also make sure that all links are active and land on current information. Since your website it the first thing a prospective member may see, it's important for them to have a pleasant experience on your site.
Career Services Chairman
Zoom with CMAA's Coaches
CMAA offers many opportunities for you to set up a Zoom call to spend some time with Coaches Kevin MacDonald ad Shelley MacDougal. If you were not able to connect with Kevin and Shelley in Orlando, be sure to find time once you are home. Use the Set Up a Coaching Session button to schedule a Zoom session and have a confidential chat about your career path, work-life balance, stress points, and any number of other important issues in your life.
Be sure to take advantage of this member benefit. It is time well spent.
The Club Foundation Liaison
Save the Date for Upcoming Scholarship Deadlines
The Club Foundation has multiple deadlines each year for submissions of scholarship and grant applications.  Here are the deadlines for 2023 to add to your calendar and share with your Chapter:
| | | |
| --- | --- | --- |
| GRANT/SCHOLARSHIP | WHO | DEADLINE |
| Student Chapter Grants | Students - CMAA World Conference attendance and travel/lodging | June 1 |
| Joe Perdue Scholarship | Students - professional development | June 1 |
| Faculty Research Grants | Faculty - hospitality faculty at an accredited, four-year institution | August 1 |
| Sally Burns Rambo Scholarship | Managers - Female Club Managers - professional development | September 1 |
| James B. Singerling Scholarship | Managers - First-time CMAA World Conference attendees | October 1 |
| LaRocca Family Executive Scholarship | Managers - Club Managers and their Mentees - professional development | November 1 |
| Willmoore H. Kendall Scholarship | Managers - Club Professionals/Managers/Assistant Managers seeking their CCM | November 1 |
For detailed information about the application process and eligibility, please visit The Club Foundation Apply Page.
Communications/Public Relations Chairman
#Choose Clubs
The #ChooseClubs video officially launched at the recent 2023 World Conference and Club Business Expo. It is the first piece of the full campaign on #ChooseClubs that CMAA will be launching to current students, hospitality faculty, and others interested in the field. It will be a great tool for recruitment. Access the video via CMAA Connect or YouTube.
Members, Chapters, and Clubs are encouraged to share. For a downloadable version, please contact Melissa Low, CAE, CMAA's Senior Director, Communications & Advocacy.
Advocacy/Legislative Chairman
Register Now for the 2023 National Golf Day
National Golf Day serves as the pinnacle advocacy event of the year for the American Golf Industry Coalition, formerly known as We Are Golf. More than 200 golf industry professionals will head to Capitol Hill to advocate for the industry and educate lawmakers in Washington, DC.
The 15th annual National Golf Day will take place on Wednesday, May 10, with volunteer activities, education, and networking beginning on May 9. There is no cost to register. Join CMAA's Advocacy Committee and Legislative Chairmen in this important opportunity to make your voice heard on issues impacting our industry. We are seeking to have representation from every state represented in CMAA.
Registration is now open through April 17. For additional questions, please contact Melissa Low, CAE, CMAA's Senior Director, Communications & Advocacy.
Membership Chairman
In April, New Members Pay Half Dues
From April 1-August 31, all new members will pay $250 for their national dues (half-year, half-dues). Now is a great time to join and start taking advantage of the benefits that come along with being a CMAA member!
Professional Development
Complete the 2023 CMAA World Conference Survey
If you attended the 2023 CMAA World Conference in Orlando, THANK YOU! CMAA had a great time hosting everyone that came to Conference and want to ensure that we are continuing to raise the bar every year. Please complete the survey to share your thoughts on the World Conference. The survey takes less than 10 minutes and will provide valuable feedback as CMAA plans future World Conferences.
Research Chairman
Please Participate in the Club Employee Demographic Assessment
There is still time to participate in the Club Employee Demographic Assessment. This research survey presented with support from CMAA and The Club Foundation, will provide a baseline and snapshot of the demographics across the club industry. This three-year project will enable your club to benchmark your changing demographics over time.
Your club's participation and information are confidential. Please submit one response per club. You will gain insight into your team's diversity and assist in formulating your own DEI strategy and tactics. Your club's participation in this assessment will provide data to help CMAA build education and resources to help clubs recruit and retain diverse talent, making it attractive for everyone to choose to work in clubs.
Thank you in advance for your club's participation in this important initiative!
Student Chapter Liaison
Congratulations to Student Chapter Winners
At the 2022 World Conference and Club Business Expo, we recognized several outstanding achievements in our student chapter community. Congratulations to the Student Shark Tank Competition Winners: Amelia Santarosa and Matthew Cummings, Niagara University
Big congratulations to all our Shark Tank participants and finalists! You can watch the final presentation of this program at the 2023 World Conference online.
After taking a year off, the Student Chapter Idea Fair made a comeback at the 2023 World Conference. Congratulations to this year's Best In Show submission: University of Houston
Wine Society Representative
Congratulations to the Wine Society 50/50 Raffle Winner
Congratulations to our winner Nancy Flynn, Controller at Shuttle Meadow CC, who won the Wine Society 50/50 Raffle which was held during the CMAA World Conference to benefit The Club Foundation.  The raffle raised $3,165 for The Club Foundation thanks to the support of our members!
New Member Totals
We're excited to welcome more new members. Can you help us get further toward our goal?
We want to hear what your Chapter is doing! Recently hold a fundraiser? Exciting event? Share your Chapter good news via email to goodnews@cmaa.org and you could be featured in an upcoming edition!